Let's Take a Walk in Parisian Parks
Not many would feel up to doing a day hike in one of the hiking trails near Paris (in Fontainebleau, for example). Walking in Parisian parks, however, would be the perfect alternative.
A walk through a park can easily be squeezed into the tightest of schedules. What more,  instead of having a proper sit-down lunch in a restaurant, for example, one can choose to get some sandwiches to eat sitting on a bench or on the grass of a Parisian park, perhaps even bring a bottle of wine, for an improvised picnic.
And there's no better city for having this type of an "urban" experience of nature than in Paris. The French capital, famous for many things, also has many public parks and gardens that are well worth a visit. You may even learn a thing or two about the city's history and its people that you would not have found out had you just spent your days pounding the asphalted shopping streets.
So, off we go, leaving the comforts of our Paris holiday apartments to go walking in Parisian parks for a day or two. Here are a few tips on what parks to visit:
Tuileries Gardens
This is in the centre of the city, between Place de la Concorde and the Louvre. You can get there by taking the metro Concorde.
The Tuileries have preserved much of their old character through revolutions of politics and style, and are the best example for the very French landscaping.
Jardin du Luxembourg
This is in the south of the river Seine, near the Pantheon. You can easily get there by taking the RER train line B from Chatelet Les Halles or the Gare du Nord (station: Luxembourg). Or, you can also take the metro to take you to station Odeon (5 minutes walk away from the park).
The Luxembourg gardens were also part of a palace once and which,today, is where the French Senate convenes. The gardening style is less "French-formal" and displays a mix of different influences: naturally grown trees and some winding paths from the English tradition, and there is still the Italianate fountain from the garden that was built for the homesick Catherine de Medici. The overall result is formidable rather.
Parc Monceau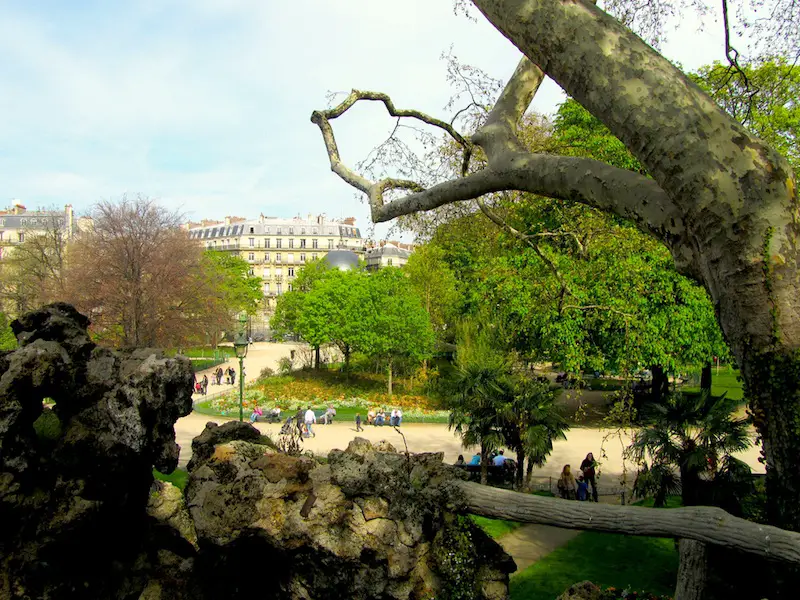 This park is only a couple of blocks east of the Arc de Triomphe reached by getting off metro station Monceau.
The Monceau is Paris's "bijou park" that has everything a proper park should have – a lake, a forest, a stream with a bridge – and all of it en miniature. This was the first Parisian park that was laid out in the "English" style. 
Banks of the Seine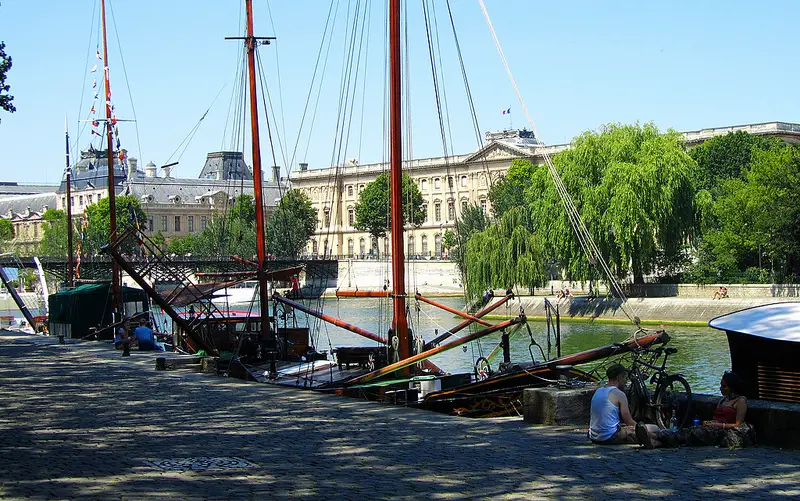 You get here by slicing all the way through Paris from east to west.  I would suggest the stretch from Notre Dame Cathedral to the Eiffel Tower. Get there via metro station Cite
The banks of the River Seine may not be everybody's idea of a "park", but they certainly are the most successfully landscaped part of the city with its street theatre of beautiful buildings, trees, the colourful boats on the river …